Bet co za is South Africa's premier online and mobile sports betting site. They are operated by BET COZA Online (Pty) Ltd and their website is powered by Thawte and Bettech Gaming. They aim to bring you a betting platform that is simple, easy and thrilling. The simplicity of their website shows that they have most certainly achieved this and plan to meet every requirement of the sports betting fan.
Bet.co.za was launched with the help, skills, track record, impeccable online service, valuable experience and knowledge of Sedley Barr, an expert on South African sports betting. He is a renowned bookmaker in South Africa and has acquired an excellent name and record in dealing with clients and caters to all of their sports betting needs. He holds the title of Treasurer of the Western Cape Bookmakers Association and offers some of the highest limits and most competitive pricing with honesty and integrity. Sticking to his reputation, Sedley guarantees that Bet.co.za will always provide high limits, competitive odds, a safe and secure betting environment and that all clients will be paid out their winnings on time.
With no physical stores, this betting platform is accessed exclusively online or through their mobile site. The mobile site is compatible with all 3G/WAP enabled phones allowing clients to bet anywhere at anytime. They plan to add more exciting features to their mobile site soon.
The types of sports available to bet on include golf, formula 1, soccer, tennis, cricket, baseball, rugby, basketball, live sports, lucky numbers, snooker, motor sports, ice hockey, horse racing, darts, boxing, Aussie rules and American sports. Betting options include handicap results, total, first half score, draws, double chance, odd/even, match winner, overtime, half-time results, winning team and many more.
This online destination also provides the latest sports news, match previews and fixtures, post match analysis, results and insider tips from their bookies. Their main aim is to bring you a sports betting platform that is easy, fun, thrilling, informing and instantly accessed.
Bet.co.za has been featured in an article in The Cape Times Business Report newspaper as well as on the ETV television channel. They will soon be teaming up with Betradar to involve clients in every aspect of their sporting events and to keep them up-to-date from the first minute to the very last minute of every match.
The Bet.co.za site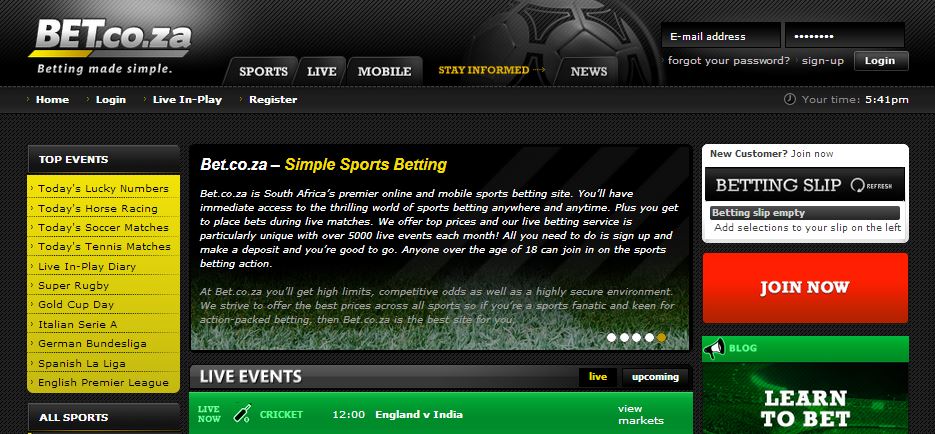 The Bet.co.za landing page is a fairly basic one with a solid colour scheme and nothing flashy or fancy. It looks pretty good and you shouldn't have too much trouble navigating the site and more importantly the markets. One thing we were not too keen on was the placement of the promotions button. It's in very small text at the top left of the page, we'd prefer it to be in a larger font, perhaps with the other headers.
We've given many other Bettech books a hard time in the past but we won't do the same with Bet.co.za. They are one of the first successful Bettech books, most other books strive to be like Bet.co.za but fail. It's a generous compliment but they've stuck with Bettech and made it work for them, so we have to give them credit for that.
What Is on Offer at Bet.co.za?
The promotions on offer at Bet.co.za are pretty standard, and while they may seem like nothing to headline about, they will keep punters interested. The brand also runs regular and specific promotions that are good to take advantage of when they come around. While the offering could do with expansion, it's pretty reasonable for now. Bet.co.za offers a full menu of sports betting options, too, including:
Soccer
Golf
Baseballs
Formula 1
Tennis
Live sports
Basketball
Motorsports
Ice hockey
Boxing
American sports
Horse racing
Aussie rules
Snooker
Rugby
Baseball
Snooker
Athletics
Lucky numbers
At Bet.co.za, you'll find lots of freedom and match fixtures, as well as news for each category of sports. There's also a Lotto betting section complete with a large range of lotto from around the globe, such s UK Main, Spain Daily Lotto, UK 49s and more.
Exclusive member features
The world of Sports betting is changing, and with it is the increase in new competition and the need to be constantly innovating your user experience. This couldn't be more true now as local previously land based consumers navigate their way towards the world online and mobile based betting.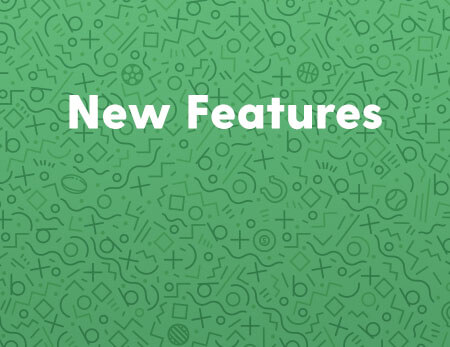 With change comes innovation and at BET.co.za they are no strangers to ensuring that their customers receive only the latest and greatest features.
Live chat function
The second aspect of BET.co.za that we really love and have grown to appreciate is the live chat feature, Not only is this super reassuring and plays perfectly into today's need for instant gratification, but it also proves to be very handy at solving what could become quite complex consumer complaints or misunderstandings. We love this feature for the speed of response as well as the knowledge and professionalism of the feedback given to queries
Live Betting
You will always find something to bet on at this site as it offers a respectable amount of live in-play events from all over the world. If your passion is soccer, tennis, ice hockey, badminton, volleyball, cricket or basketball, you bound to find something appealing.
The number of betting options is pleasing with cricket matches boosting 20+ markets, soccer games can have up to 90 (depending on the teams playing), basketball averages around 40 and the same goes for tennis. You can place quick single bets simply by clicking on the price you want or build a winning multi by adding several selections to your bet ticket.
To enhance the live betting experience, BET.co.za now delivers a limited amount of live streaming on the platform. Currently, there are a few lower league football matches, some tennis and ice hockey. It's not the most comprehensive but it's better the nothing and a solid foundation to improve upon.
BETgames
There are three BETgames available on this site: Lucky 5, Lucky 6 and Lucky 7. They are lottery games in which the balls are drawn from a hopper and they appear in the winning tube(s). Both Lucky 5, played with 36 balls, and Lucky 7, played with 42 balls, are very much like a traditional lotto. There are a variety of betting options such as; pick one number that will be drawn, O/U collective total of the numbers on the balls drawn and how many white/yellow/red/etc balls will be drawn to name a few.
Lucky 6 is a little different as it uses 3 mini hoppers with balls numbered from 0 – 9 and two balls are drawn from each hopper for you to bet on. This gives several different betting options like; will the same number be drawn at least twice, exact order of the balls drawn and will at least three even numbers be drawn.
BET.co.za Lucky Numbers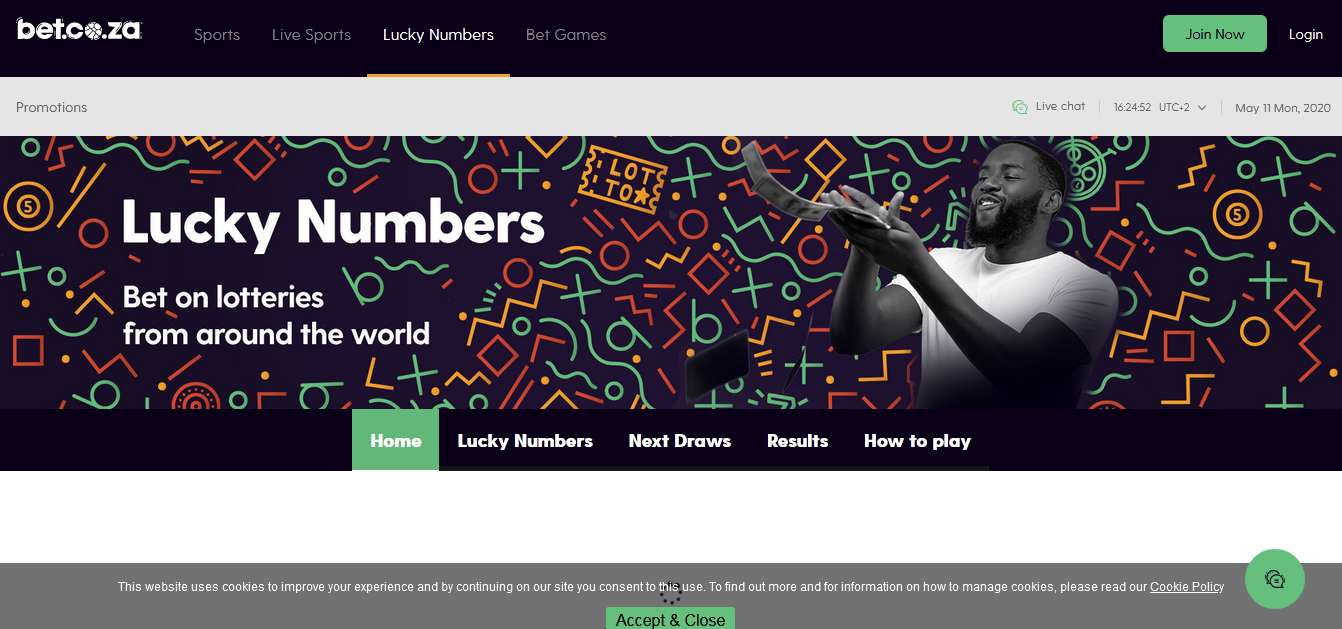 These are also lottery games. Lucky Numbers is fixed odds betting based on the balls drawn from various national lotteries in South Africa and around the world. In total there are more than 40 lotteries coming from 25+ different countries. It's important to note that you are betting against BET.co.za – you are not purchasing a real lotto ticket for the draw. The bookmaker pays out a guaranteed price on winning tickets. Both BETgames and Lucky Numbers provide players with the chance to win big from small stakes – which is why they are so popular.

Bet.co.za mobile app
While the BET.co.za web interface offers patrons, punters and pundits an easy way to play, the new mobile application makes it even easier to enjoy the thrill of the game.
Adding a mobile application interface to BET.co.za's popular platform was important to the team, but ensuring that users would enjoy a seamless experience was noted as a priority. BET.co.za's mobile application is built for Android and iOS platforms, and users over the age of 18 can:
Place their bets on any sport, game or race they choose to;
Place bets for any amount of money;
Enjoy the full betting experience;
Get FICA verified on the move;
Deposit money and,
Receive fast payouts when they win.
Additionally, the BET.co.za mobile app provides a customised sports menu that you can tailor to your own desires, thus putting all of your favourite markets just one click away.
Bet.co.za Promotions

Bet my Bru payout : Take a correct score bet on your EPL SuperBru prediction and if it wins, we'll double your payout up to R1000.
Straight Set Bonus : Back a player on a match outright and if he/she wins in straight sets, we'll boost your payout by 25% up to R1000.
Soccer Multi Special : Take a 6+ Soccer multiple and if you go one out, we will refund your stake.
Live Inplay Tennis Bonus : Take 5+ tennis in-running markets in one day and get a bonus equal to your average stake.
Strike Bowler Bonus : Back a player to be top bowler and if he takes a fifer we'll double your payout with a free bet.
Creating an account with BET.co.za
Becoming a member of a sports betting site is something everyone should consider, not only can you not place any bets or get in on the action if you don't, but really over and above this it is a great opportunity for you to get valuable support, the latest industry and sports related news, special offers and so much more.
Creating an account with BET.co.za is a very easy process, regardless of the device. Requirements for creating an account are very similar to most of the other bookmakers, this includes your name, email address, the source of your funds as well as ID number will be required. No documents are required initially to sign up.
BET.co.za uses a sophisticated authentication system they call eKYC, it stands for "Electronic Know Your Customer" and pretty much what it does is verify your details through the Home Affairs database to make sure everything checks out. eKYC is the safest way to confirm that you are who you say you are.
If for whatever reason eKYC cannot instantly authenticate your details and confirm that you are who you say you are they will request the relevant FICA documentation.
Whether you register on your mobile or on a PC the process is the same, you will be able to utilise the exact same login details regardless of device.
Of course we love ourselves a welcome bonus, BET.co.za offers new customers a package consisting of three deposit bonuses: 100% up to R1000, 10% up to R100 and 40% up to R400. The biggest issue we have with this is that you are only able to view this bonus as well as the T's & C's once you have registered, this information is not provided from the outset.
How to place a bet with BET.co.za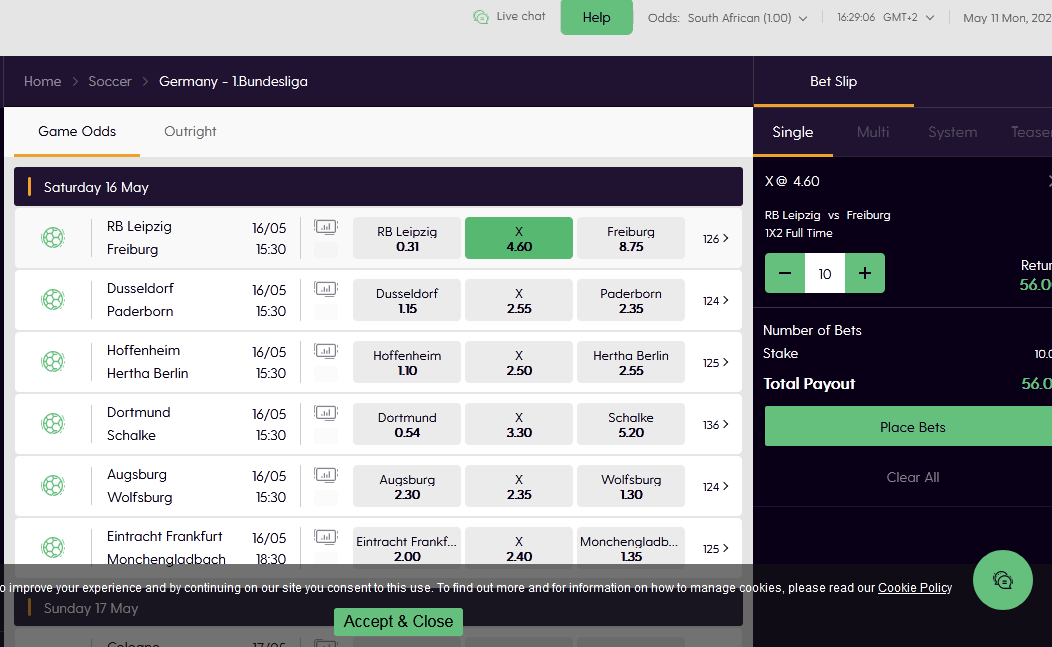 Placing a bet with BET.co.za is very simple. Here is a step-by-step guide help get you up and running.
So you want to have a bet on sports do you? Well, you've come to the right place. At BET.co.za, we're all about making the betting experience as easy as possible. That's why we've put together this simple betting guide to help you along the way.
Step 1 – Login to your account
So you've created your account and deposited. Here's what you'll need to do. Visit the BET.co.za homepage and login to your account. Simply enter your username (email address) and password and click the login button. Simple enough.
Step 2 – Finding your match
On the left hand side is a list of all the sports on offer. Scroll down to the sport of your choice and click to open up all the different events in that sport. If you love a sport, no doubt we've got betting on it – with all the major and minor leagues from around the world.  The team at BET.co.za also put the biggest events – and some special offers – into the Top Events section so keep an eye out for that.
Step 3 – Select your prediction
This will open up a list of fixtures where the odds for a home win, draw and away win are clearly displayed. Select the option you wish to choose to add it to your betslip. Alternatively, you can click on the number to the right of the fixture to see all the betting markets available on the game.
Step 4 – Add a stake
The next step is to view your bet slip on the right hand side of the page, which will be loaded with your selections. Add the amount you would like to bet (stake). You can now see how much you stand to win in the 'To Win' column. Remember, your stake will be returned with all winning bets.
It is always wise to double check your selections. Take a minute to check over the results you have chosen and the stake you are placing.
Once you are happy, click the yellow icon at the bottom of your bet slip which reads 'Place Bet' to confirm your bet.
Now all that's left to do is head over to BET.co.za and follow these easy steps.
BET.co.za Withdrawals & Deposits
All of the regular payment gateways are open to players from South Africa, including:
Credit Cards
Debit Cards
SID Instant ETF
In-Bank Transfers
Instant Banking
iPay
BET.co.za doesn't charge any withdrawal fees. The process time for withdrawals is two business days. If the payment is to be made to ABSA, Standard Bank, FNB or Nedbank, it should take no longer than 1 day from the time your money is released.
Customer Support at Bet.co.za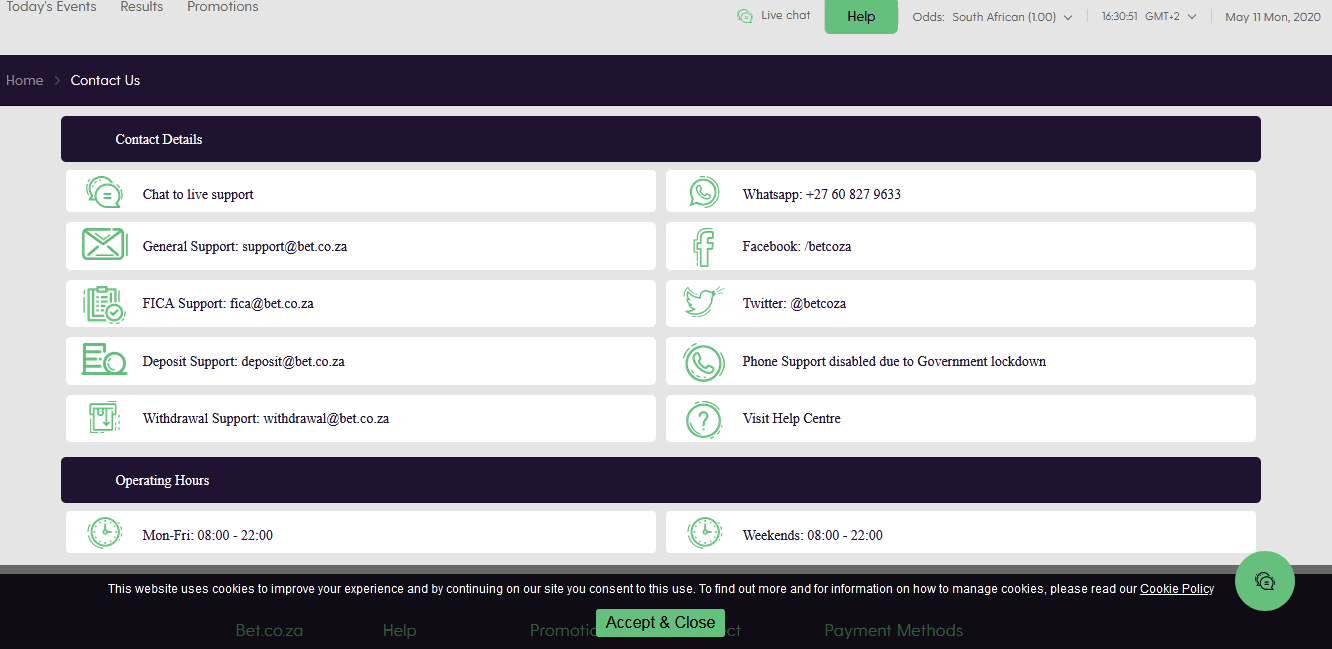 With the recognition that online gambling needs swift and fast responses, Bet.co.za has availed several platforms for players to reach out. They offer both live chat and a call-in service but we're not sure if they are available 24/7.
| | |
| --- | --- |
| E-mail | [email protected] |
| Additional Support Option | Entry Form, Live Chat, |
| Fax | +27 86 719 6934 |
| Bet.co.za Contact Number | +27 86 123 8000 |