The 1966 World Cup was a memorable moment in the history of English football but also the betting industry. The following year, Fred and Peter Done opened the first Betfred betting in shop in Salford in Northern England. Part of the funding for that shop came from a bet on England to win that World Cup so it's good job Geoff Hurst was on form that day.
Over the following 50 years the company has grown from strength to strength and now has over 1,370 betting shops in the UK employing over 10,000 people. It also of course has this hugely successful online betting site. Such has been their growth that the company is now the world's biggest independent bookmaker and continue to open new shops in the UK on a regular basis.
Everyone can make mistakes though and in 1998 they paid out early to customers who had Manchester United to win the Premier League. Then Arsenal made an amazing comeback and pipped United for the title.
Betting markets
Betting opportunities have definitely changed in recent years. No longer are we restricted to limited coupons covering just the main games taking place. Now we can bet on everything from those top matches to reserve and youth games. Betfred offer odds on matches in a wide range of sports and not just the usual suspects. If you want to place a bet on a sport such as hurling or Gaelic football, then you can on this site.
It's not just a case of betting on who's going to win, lose, or draw the game. There are plenty of markets available for each of the events covered. Some sites have a few more markets but the main ones are here for you to try your luck on. You can bet on when the first goal is scored, who'll score it, what the score will be at half-time and whether a player will be sent off.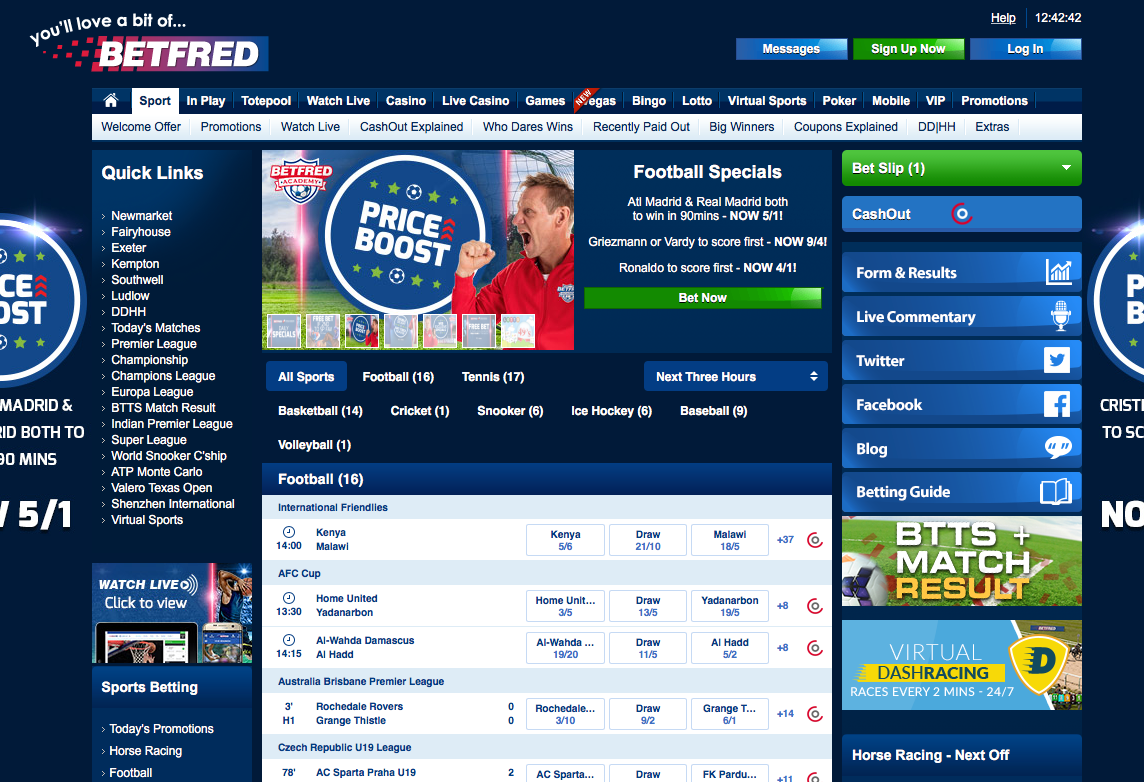 If you like ante-post betting then there are plenty of opportunities available, especially on the World Snooker Championship which Betfred sponsor. Odds on the site are competitive and look out for the enhanced odds that can be better than available at other sites. When it comes to horse and greyhound racing, they will pay out on the SP rather than the price you might have taken in the morning. That avoids that horrible situation where you take, what you think is a good early price, then see it drift out to a much larger one and still win the race. It's the SP that you will be paid out on.
Website & mobile app
It's always important that a site has a good look to it. Who wants to be spending time looking at one isn't attractive. Thankfully that's not the case here and if you love the colour blue then you will adore this site. There's plenty happening on it so being able to navigate around it is vitally important. The last thing you want to do is miss out on a bet just because you can't find the page in time. The Betfred site has lots of key bets on the home page and quick links to the main events. Each sport has its own special page as do promotions, that makes it easy to find everything with ease.
Most of us lead busy lives and can't spend all our time sat in front of the computer checking how our bets on the Betfred site are going. It's important therefore to download the mobile version of the site. This can be downloaded without too much difficulty on iOS and Android. That way you can be following the latest action whether you are at home or downtown getting the shopping done. The site has the main features that are on the main site. That means you can access the Racing Post Data, CashOut your bets, check the statistics that will help you decide who to back and of course get the up to date results and watch the live action. It's easy to use and highly recommended.
Welcome Bonus and Promotions
New punters at Betfred get £30 worth of free bets Betfred regularly updates their promotions and their list of promos for each sport are some of the best we've come across. Most of the promotions centre around horse racing and football, while the Double Delight prom is all about the first goal scorer of a match. If they score another goal during the match, Betfred doubles your winnings! There are also promos for American football and Rugby.
One of their most notable offers is called Goals Galore. With this one, the sportsbook offers. What's more, if you place a bet and the starting price is actually better than the Betfred price, they'll payout the extra increased odds. This is one brand that is very active on social media, so you'll find all their latest offers there.
Online Casino
The gambling club games on offer at Betfred online gambling club are chiefly controlled by Playtech, despite the fact that there are different suppliers offering top openings, for example, Ash Gaming, Wager Works and Boss Media. This implies whatever game you play, you'll experience the absolute best innovation, top-class designs and livelinesss and an inside and out vivid and noteworthy gaming experience. On the site, you will be offered a wide choice of opening games including probably the most famous around, for example, Full Moon Fortunes and Piggies and the Wolf; actually, there are more than 530 spaces to look over, including great more than 25 top big stake openings, for example, Justice League and the ever-well known Age of Gods franchise.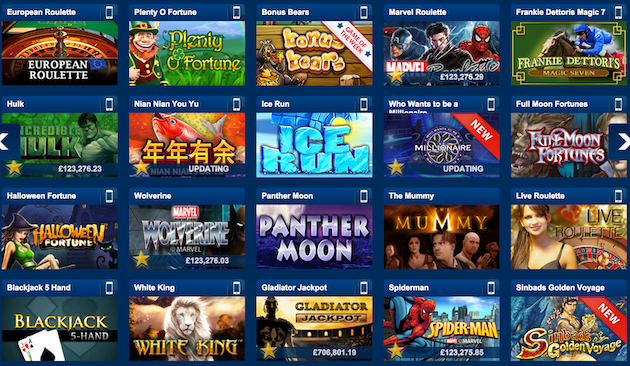 You can likewise browse more than 10 roulette tables games, near 10 blackjack tables games, just as a choice of table poker games, Pai Gow poker, baccarat and that's just the beginning. Over these prominent games, you can likewise get to the noteworthy live gambling club, which offers its own one of a kind games including live roulette, live blackjack, live baccarat, live Hold'em and even live Age of Gods roulette. In the event that you love a live gambling club, you'll love this.
Betfred betting odds
According to the Betfred test reports, the betting odds can stand out clearly from the competition. Overall, the British betting provider can boast of an average quota key of 94 percent , with which Betfred can secure a place in the ranking in the upper middle field in the odds comparison. The top games in the Premier League rarely complete a game where the odds drop below 95 percent. The odds are extremely stable with this bookmaker. We could not find any tendencies for favorites or outsider bets in our Betfred test. The quotation of the different lots can be described as balanced. Even with exotic sports, the quota keys rarely deviate from the average.
Betfred Bonus
In our experience at Betfred, new customers are greeted with a welcome bonus. This is granted after the registration as well as the first deposit and the first qualifying bet in the form of a freebet worth 30 euros . The amount of this new customer offer certainly does not ensure a ranking among the top 10 in the sports betting comparison. A special bonus code is not required to take advantage of the offer. No payment methods are prescribed for the first qualifying deposit. You can therefore choose your preferred payment option from the betting provider's portfolio. The free bet worth 30 euros will be automatically made available to you on the betting slip as soon as you have met all the conditions.
As the Betfred reviews show, you can only secure the welcome bonus at Betfred if you are resident in the UK or Ireland. As soon as you have registered a new betting account with this company and made a deposit of at least 10 euros, you can activate the offer . Make sure not to drop below the minimum deposit amount, as you need this amount to activate the new customer offer.
How serious is Betfred?
Betfred is one of the most renowned sports betting operators in the international industry. The betting provider has been operating on the market for over half a century, which already speaks for the seriousness of the bookmaker. In addition, Betfred has been granted valid sports betting concessions by the British Gambling Commission and the Gibraltar Gambling Commissioner . These licenses are subject to strict regulations, the bookmaker's compliance with which is checked at regular intervals. If there were violations in this regard, Betfred would have to face severe fines up to the withdrawal of the permit. Fraud or rip off are not to be feared with this operator, as the Betfred test shows.Security is also very important to the British sports betting company. At this bookmaker, all data is transmitted exclusively encrypted using SSL encryption that corresponds to the latest technology.
Deposits and withdrawals
Our Betfred test report shows that sports betting deposits and withdrawals can be made easily and easily with a few mouse clicks in the personal customer area. According to our Betfred experience, unfortunately not all payment methods offered can be used free of charge for a deposit. After some research, we found in the FAQ section that the e-wallet methods Skrill and Neteller are only used once a day free of charge . Each additional deposit is subject to a 2.9 percent fee. You can use the VISA and MasterCard, Neteller, Skrill, Ukash, bank transfer and BTS payment methods to make a deposit with Betfred. Unfortunately, PayPal sports betting cannotto be placed. The minimum deposit amount depends on the chosen payment method and starts with 5 euros for Ukash. For the bank transfer, the deposit amount was set at 125 euros.
As the experience with Betfred shows, you can only pay out for winnings with this bookmaker using the same payment method that you have already used for the deposit. If this is not possible for technical reasons, you have the choice between VISA and MasterCard and bank transfer. Payouts are free of charge, regardless of which payment method you choose. The payment service providers Neteller, Skrill, bank transfer and credit card payments VISA and MasterCard are available. Betfred is known for its quick payout processing. Withdrawals via Neteller or Skrill are transferred within 24 hours. Within the legal framework, Betfred will verify your account and verify your identity before the first payment is transferred. Minimum withdrawal amounts have been set at 10 euros . The limits depend on the chosen payment method. If you choose bank transfer, you can have your winnings paid out indefinitely.
Customer support
If you have any questions or problems, the bookmaker will provide you with a well-developed FAQ area after our test report on Betfred, but completely in English. In this area, the betting provider presents the most common customer questions in a clear, understandable manner and sorted by topic. Almost all general questions are dealt with in the help section. If you have any questions about your personal customer account, we recommend that you contact the bookmaker directly. In contrast to other betting providers that offer customer support by phone or email, Betfred only provides you with contact via live chat . The traditional British company does not offer telephone or email support. TheLive chat is available around the clock, 7 days a week.