World Sports Betting or WSB as they are often referred to has really made a name for themselves in recent years. The Northriding based Sports Betting company started out as a small operator at the once flourishing Randburg Waterfront but soon grew into a national brand with retail outlets all over South Africa. Their Online business set the president for those to follow too and today they still lead the market with an ever-changing online betting platform that is second to none. As official Sponsors of domestic cricket team the World Sports Betting Cobras, World Champion Boxer Tulane Mbenge as well as the Lions Rugby union, they continue to align themselves with some of SA's top sports brands… Something less publicised however is their support to the local communities in which they serve.
Their close working relationship with the Fourways Main Reef Rotary has resulted in some fantastic initiatives including the annual rotary race day at Turffontein, which they sponsor. They have also provided sponsorships to the Diepsloot Soccer leagues and more recently, they sponsored a Brand New tournament sized Soccer Field to the Life Tree Kaya sands community project. Ryno Du Plessis, marketing manager for the brand was onsite when the students of Life tree were told that they would finally be receiving a "real" soccer field and called it "an emotional dividend" to see the difference the company can make in the lives of community members. "Our CEO and founder Warren Tannous has always been a giving individual and I think it is wonderful that we get to continue in his footsteps through these kinds of initiatives," Said Ryno. "We have fantastic CSI projects in Gauteng, Western Cape and Durban and we take great pride in being able to help" Countless other charitable organisations receive support in various ways annually from the World Sports Betting team and you can stay up to date with this by following them on Social Media. If you would like to know more about the organisation, you can visit their website: www.wsb.co.za
WBS – Friendly, Fast, Secure
World Sports Betting (WSB) was founded in 2002, with innovative markets tailored for South African customers. It seeks to present a friendly, fast, and secure online sports betting experience.
There are over 250,000 pre-match events every month, as well as a minimum of 200,000 live in-play events.
The Tele-Bet and support centre is open 24/7, 365 days a year, which is a first in Africa. Clients can speak to a representative, place a bet, and make a deposit at any time of the day or night.
These factors have kept WSB at the forefront of South African sports betting for the last decade.
Mobile App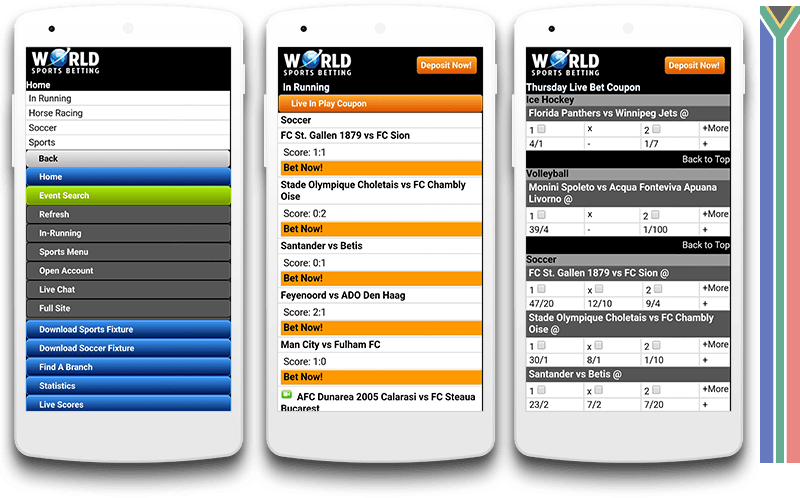 Mobile punters don't need to download a World Sports Betting mobile app because everything is completely web-based. Therefore, all you need to do is visit https://mobile.wsb.co.za/ using your regular web browser and you're ready to go.
It's a no-thrills design, but like the desktop interface, it performs its job. All of the categories are simply indexed with headings, such as: all sports, SA horse racing, today's soccer, etc. This makes navigating to the area of the site you desire quick and easy. If you want to sign up, mobile registration is super fast using the link above. You can claim the massive bonus on your first deposit and enjoy all of the other features and promos that WSB has to offer.
World Sports Betting Odds
It has become standard practice to expect a top betting site in South Africa to consist of multiplatform apps. It is quite disappointing to note that there is no mobile app at World Sports Betting. You can use the instant play World Sports Betting mobile browser to place your bets using your smartphone. They more than made up for that with the spread of betting odds of the different tournaments that South African gamblers enjoy betting on. Here's a list of betting markets that you will find at WSB sports betting website:

World Sports Betting Live Betting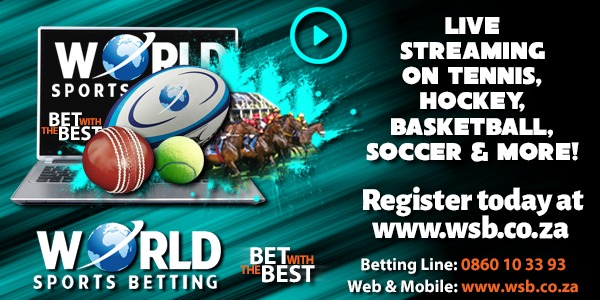 Soccer, rugby, cricket, American football, basketball, tennis and esports are just a few of the sports you can bet on in-play at WSB.
You got a good selection of markets to choose from for most games, so finding a bet is easy. Remember to make use of the Sportradar live score centre to check out the stats first. The in-play betting platform has a cool match animation console built in which helps you follow the action. However, the main feature of WSB is its live streaming service. It streams hundreds of matches live each week through WSB TV, covering sports such as soccer, cricket, table tennis, handball, basketball, tennis and American football. This gives punters much better value for money as it is a complete sports entertainment platform all-in-one.
100% Welcome Bonus Up To R10,000
World Sports Betting online website offers new players an incredibly generous sign up bonus after completing the registration process. Punters are in line to get a whopping R10000 first deposit match bonus. This incredible offer is only available to new players. Players will be required to wager five times the amount of the bonus before they can withdraw their winnings from their account. There is a minimum deposit for this bonus which is set at R50. Existing players needn't worry, they are also rewarded based on the frequency of their bets and deposits.
How to Claim Your World Sports Betting Welcome Bonus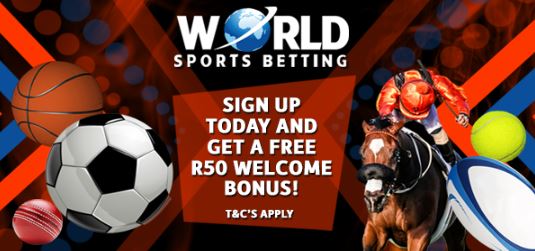 You can claim your World Sports Betting bonus code in just a few minutes. If you have any issues just click the red 24/7 button in the top right of the screen. This will bring up the live chat window.
Click the orange 'Sign Up Now' button. It's in the top right-hand corner of the WSB homepage.
Input your registration information. It will ask for some contact information, such as your name and an e-mail address. Choose a unique username and a password that you'll remember.
Once you're registered, log into your account and place a qualifying deposit. Then all you have to do is e-mail promotions@wsb.co.za, putting "100% Bonus Offer" in the subject line. Let them know how much you've deposited, and it will be matched with a free betting voucher.
WSB Blogs, results, stats and live scores
Another huge feature that makes WSB stand out from the crowd is their excellent sports blog section which, apart from its informative betting previews and news on anything of any real importance, carries thousands of results, competition logs and a wide range of valuable and not so valuable statistics.
To a greater degree than most of their competitors, WSB seems to be keenly aware of the importance of keeping their customers clued up on what is happening out there in the world. The simple fact that they have also added a streaming section of Esports matches to their site is just another indication of this.
Their onus on offering up-to-the-minute sports information is obvious from the moment your eyes fall on their home page banner and note that it features more bright and picturesque adds for World sport's bigger events of the moment than it does for even its bonus features.
One small criticism, until you've established exactly where it is on their home page, the praiseworthy blog section, despite being highlighted by some brightly-coloured buttons, is a little too low down and hidden away to be easily noticed by newcomers to the site.
How Can I Place a Bet at World Sports Betting?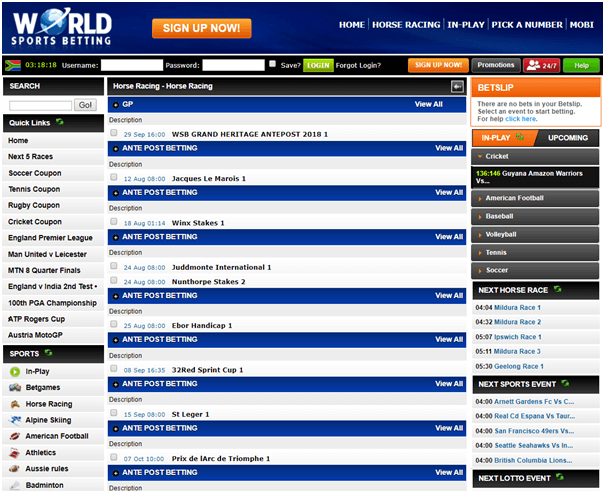 If you're a betting newbie, don't worry, we're here to help. Check out the steps below for information on how to place a bet.
Browse the markets. Sports are broken down into their relevant categories on the left-hand side of the page. Popular in-play markets appear in the centre of the homepage.
When you've found a bet, click on the odds to add it to your bet slip. It'll appear on the right-hand side of the screen.
Enter your stake. The potential returns will be highlighted below.
Place the bet if you're sure you're happy. Your balance will be updated immediately.
Relax and enjoy the game. Streaming is available on certain events, check if your bet is eligible.
How to register an account with WSB
For this guide we are going to take you through the steps needed to successfully register an account on your mobile or tablet. It's completely free to register with WSB and our guide will have you betting in no time. Once registered you'll be able to claim a juicy 100% deposit match bonus up to R10,000! Let's get started with what you need to do.
Step 1
Visit the new WSB Mobile site, you can do so by clickking here. Once you're on the mobile site you'll see in that on the top right corner of your screen is a button with the word register on it, you'll need to click the button to bring up the registration form which we'll run through in step 2.
Step 2
Once you've clicked the register button the entire form will load. The great thing about the WSB registration process is that all the info you'll be entering is on one form, so if you make a mistake with some of your details you'll immediately be able to correct it. The loaded form will look like the one in the image below.
Step 3
The third and most important step is to enter your details on the form, you'll be required to enter the following information.
Username, the username you'll be using to login into your WSB account once registration is complete
Password & Confirm Password, be sure to choose a complicated password that you'll remember, it helps to keep your account safe and secure.
Title, Mr, Mrs, Ms etc.
First Name & Last Name, Your first and last names as shown in your ID book .
Date of Birth
Country, You'll likely put South Africa in here.
Email Address, an email address where WSB can get in touch with you in the future, be sure to enter your email address correctly!
Mobile Number
ID Type, select your ID type from the drop down box, you'll also be able to select Passport among others.
ID Number, your ID number or passport number, as shown in your ID or passport.
Physical Address, the address where you live, you'll want to be sure you have a bill or statement with the address on, for FICA purposes, should WSB request proof of address.
Agree to terms and conditions
That's it you're set! If you've entered all your details correctly you'll then want to click on the register button at the bottom of the form. If all the details are correct your WSB account will be successfully registered and you'll be a deposit away from taking your first bet. If you'd like to know more about sports betting then head over to the Best Sports Betting home page for everything you need to know.
Transactions & Banking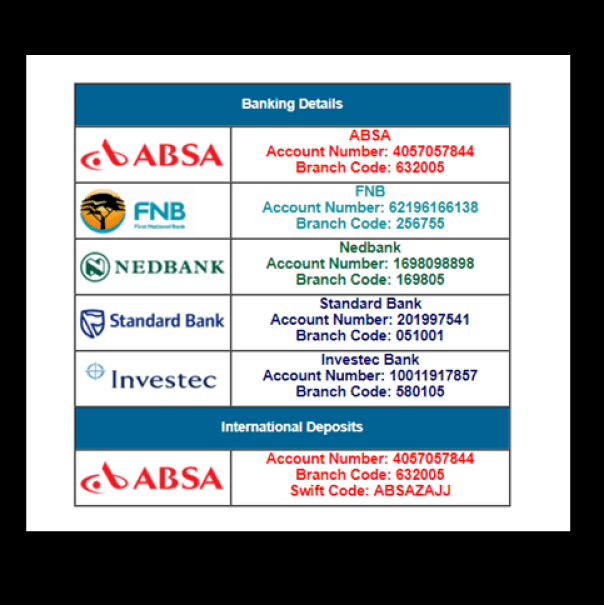 Depositing Funds
Once you have registered and activated an account with World Sports Betting, you are free to deposit funds and start betting immediately.
Ensure that you are logged in by using your log in name and password.
Click on the 'Deposits' link.
Credit / Debit Cards: Enter the amount you wish to deposit and ' Submit'.
Bank Transfer / Cash: Once you have deposited funds into a World Sports Betting account, click on the 'Deposit' link. Select the bank into which the funds were deposited as well as the amount and 'Submit'.
Please ensure that you use WSB-Account Number E.g. WSB-18451 as your deposit reference to ensure your betting account is credited promptly
Please Note, the minimum deposit via transfer and credit card is R50.00.
By submitting this form, please be aware that you are not authorising World Sports Betting to physically withdraw funds from your respective account. This facility is merely used as a notification tool.
Deposit Options
World Sports Betting has a choice of 5 bank accounts into which money can be deposited. To ensure optimum processing time, please ensure that bank transfers are facilitated from your bank into a World Sports Betting account with the same financial institution e.g. FNB to FNB, ABSA to ABSA etc. Any deviation may result in a delay of up to 2 days whilst awaiting fund clearance.
As soon as the funds appear in a World Sports Betting account, your betting account will be credited.
Withdraw
Customers will be charged 5% if the value of a deposit is not turned over (bet) before withdrawing (minimum R50.00). In terms of WSB payout times, South African account holders should allow 2 working days for bank transfers and up to 5 working days for credit card payments. International account holders need to wait up to 8 working days
World Sports Betting Customer Service
WSB support is on-call 24/7/365, so there's always assistance when you need it. You can reach out via the following options:
Live chat: click the red button at the top of the page or find the 'live chat' tab in the menu to launch this feature
Email: support@wsb.co.za
Telephone: 0860-103-393 or for international customers: + 27-860-103-393